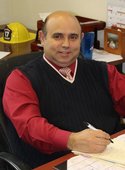 Mr. John Giovannitti, Assistant Principal

Phone: 856-423-2222
A letter note from the Principal...
Welcome to Paulsboro Junior High School for the 2017-2018 school year. My name is John Giovannitti and I am extremely excited and honored to be the Paulsboro Junior High Principal. As an administrator within the Paulsboro School District, I have worked with families and students from Paulsboro for over 30 years. I have witnessed firsthand the outstanding education students from Paulsboro have received and I am looking forward to the school year. I eagerly await the opportunity to continue working with students, parents, and staff in my role.
Our goal is to prepare students for success in life! To accomplish this, students engage in a rigorous comprehensive curriculum that emphasizes best practices in education. We look to create "thinking" classrooms where student ideas are a valued and utilized part of the program. Special emphasis is made on student collaboration, problem-solving, and digital literacy. Our collaborative staff works very hard to develop a standards-based curriculum that is aligned throughout the content and grade levels toward a set of learning standards focused on what students can do.